Children Thrilled with New Playground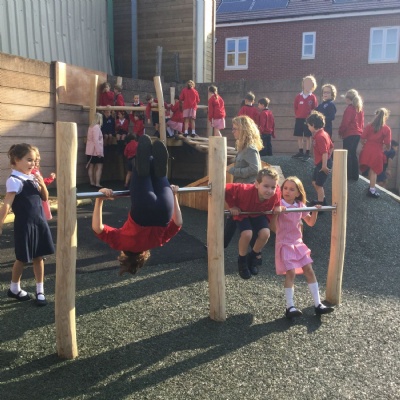 The start of the school year was a magical time for our children, who came into school to find that over the holiday their playground had been transformed from a blank, empty space into an exciting new imaginative area.
Children are having more fun, exploring, getting messy and enjoying themselves as children should. Playtime has been significantly improved and staff have observed noticeably better behaviour at playtimes. The first phase of this new playground includes a reading nook, plant beds, a huge sandpit, an outdoor classroom providing shelter and shade, and a climbing hill and tunnel with ladder and raised platform as well as acrobatic bars surrounded by softer mulch flooring. On the other side of the playground we now have sports marking for PE including a football pitch, netball pitch and running track as well as balancing beams which double up as safety barrier for D&D. We are so pleased with how happy our children are at playtime!
A group of parents and staff, working with playground expert OPAL, the Outdoor Play and Learning Project, and professionals from Infinite Playgrounds designed the playground, with input from children and the wider parent body. Vered Simons Rose, Alma's OPAL leader says 'It was amazing seeing the children's reactions to the new playground. They are having much happier playtimes and increasing a range of skills while they play.'
See more about OPAL and our new playground here.