Pesah-Spring Holiday Challenges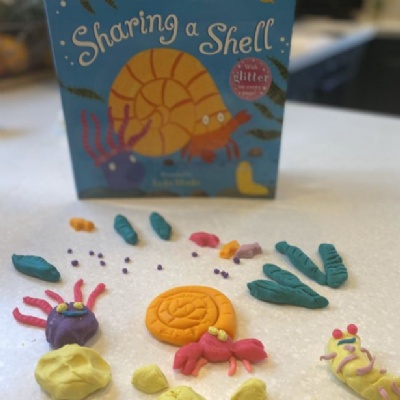 Over the Pesah-spring holidays we won't be setting any daily tasks, but instead we are suggesting some (mainly) art-based challenges for Alma children to do over the break.
The ideas below are suggestions for children to do with members of the family and intended for fun, family engagement.
Recreate your own version of classic paintings: choose an interesting painting (it could be connected to your Learning-in-Depth topic) from the Rijksmuseum collection in Amsterdam (see their great digital tour of their masterpieces) or the Tate artists collection (or take a walk-though of British art from 1545 to now). Note for parents: follow Molly O'Cathain - @MollyOCath on Twitter or @mollyfreja on Instagram to see amazing examples of this.
Recreate your own book cover: find the cover for a book or story (it could be connected to your Learning-in-Depth topic) and recreate the book cover in a creative way. You could draw it, make it out of playdough, make it out of recycled stuff, use clothes to make floor-art or find another way to make the cover.
Paint your world: over the past couple of weeks all of our homes have become our world. Artist David Hockney has said that we should paint and draw to help us get through the crisis. You can use paint and brushes or pencils… or you could use an app (JI Tap is a free app which you can use for this) or a website such as Tate Paint or JIS to make your own digital paintings. Look at some of David Hockney's paintings made using an iPad for inspiration.
Make a post-quarantine plan: our final challenge is to focus on what you want to do when quarantine ends and we are allowed to leave our homes for fun things! Create a wish-list of the 5 things you most want to do when you are allowed to go out of your house – add a picture, description or link to the activity you want to do or the place you want to visit. You could share your ideas through a leaflet, a drawing, a presentation (Powerpoint, Keynote or Prezi), or a recording.
Enter the JI Tap Competition (see below).
At the end of the holidays we will send out a link for parents to use to share their children's best artwork with us and staff will select drawings, paintings, creations and wish lists to display on our school website.
JI Tap Competition
JI Tap are running a Passover game design competition for children with a chance to win an MacBook.
MISSION: Develop a digital game about Pesach on Ji Tap (no coding skills needed)
SUBMIT: By April 17, 2020
WINNER to be announced: April 23, 2020
We will announce the winner of the MacBook live online!
TASK: Students or a family team will design a digital game using the Ji Tap app or Ji Tap Web Creator. Your Pesach game can be designed according one of the following topics:
A personal interactive Hagaddah (you could use it on the Seder and share with your grandparents and family)
10 Plagues
Freedom
Values connected to Pesach
Story of Exodus
Passover traditions in my family
Interactive Pesach Seder
Or something else!
No comments have been left yet.