Alma children learn to be caretakers of the environment on Tu b'shvat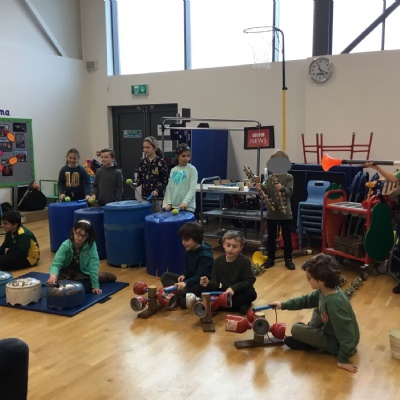 Happy birthday to the trees!
Tu B'shvat is the birthday of the trees. It is an ecological festival that reminds us of our connection to the Earth and our role as caretakers of the environment.
As part of the celebrations, the children at Alma came to school in brown, green and/or floral clothes to represent the trees and nature.
The children were able to taste a selection of 15 varieties of fruit which had been generously donated by the Alma parents. Thank you parents! The number 15 is significant because Tu B'shvat takes place on the 15th day of the month of Shvat. It was a great opportunity to try fruits that some children had never tasted before, for example, sharon fruit and passion fruit. The children then carried out research into the origins of particular fruits, for example, how they are grown, where, and in which countries? The leftover fruit was taken to the charity "Homeless Action in Barnet" who were extremely grateful to receive such a substantial and thoughtful donation just in time for their lunchtime sitting.
The older year groups learnt about the dangers to the environment created by the use of Palm Oil and some studied excerpts from the Tanakh which related to the protection of the environment. The children created beautiful artwork related to these excerpts which will be displayed on our tree in the school hall.
The younger years played matching games about the 7 species of Israel with the Alma shinshiniot.
The highlight of the day was The Junk Orchestra. The children first watched an assembly about recycling unwanted materials to create a range of exciting and interesting instruments. The children then each participated in workshops, creating pieces of music from such things as plastic bins and bottle top caps. It was fascinating to learn what seemingly useless items could be re-used to create music!
At break time, the orchestra moved to the outdoor classroom where children could make their own drums from old cardboard.
Finally, the children each decorated compostable plant pots in which they planted their own parsley seeds to be grown and cared for at home and to be used in a few months' time at Pesach.