Ivrit Spoken Word Festival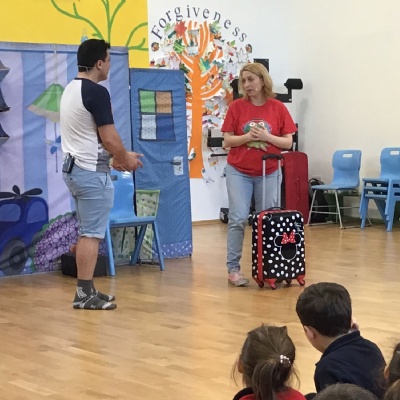 Ivrit Spoken Word Festival
Alma Primary is participating in the Ivrit Spoken Word Festival, coordinated by the JNF. Children in Reception, Years 1, 2 and 3 watched the first performance by the Orna Porat Theatre Company. The play was called Mr Simon's shoes and, as the play was performed predominantly in Hebrew, the children spent this week learning the vocabulary for the play and talking about the story. The play explored the theme of old and new and the children loved the songs and puppets which were included in the show. The children were fully engaged and had a laughter-filled morning!
The second performance was for Years 4 and 5 with a play called, "Fire in my Head." This show dealt with the idea of what it feels like to be on the outside of the crowd and what it feels like to be misunderstood. The children have been discussing the themes in their Hebrew lessons and have learned the Hebrew words for different feelings.
In both performances the children behaved extremely well and asked excellent questions of the casts.