Kandinsky Art Lesson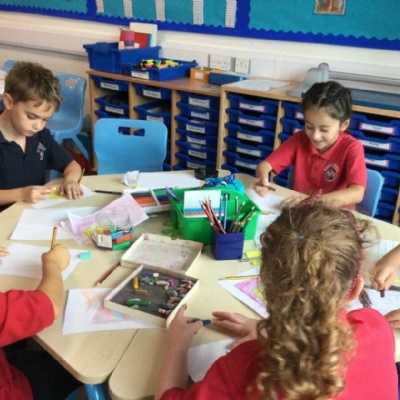 In Year 2, we had a colourful start to the year! Kandinsky was a Russian artist who was one of the first to paint in an abstract (not real) manner. He felt that colours had souls and that abstract painting was the best way to allow them to sing. His painting 'Squares with Concentric Circles' inspired us in this piece of artwork we completed on the first day of Year 2. We chose a single shape and drew that within itself before using pastels to create vibrant, colourful images – just like Kandinsky!
We started by practising on scrap paper to see how many times we should draw our shape. Some of us drew it lots of times but then realised we wouldn't be able to show off the bright colours that we wanted to use, so rubbed some of the lines out. We planned which colours we would use, making sure that we didn't just choose the same colour for each layer.
Our final pieces are displayed outside the classroom – come see them if you are in school!