Internet Safety Day at Alma 25/02/20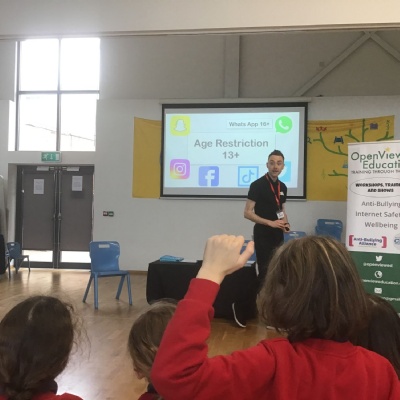 Year 5 participated in a very interesting and thought provoking workshop led by James from OpenView Education. We started off by playing a quick game to ascertain how our class uses the internet and what types of apps and games we use. James showed us some simplified Terms & Conditions from Instagram, the children were shocked about what they contained and the amount and type of information companies have access to. James explained that we don't 'pay' to use these platforms with money but we do 'pay' with our information.
We then thought about our online reputation. The class looked at different online profiles and discussed what was safe information to share and if there was anything that the person could regret in the future. We discussed how quickly we can upload videos and pictures to the internet without realising or thinking about what information we're sharing e.g our school uniform can tell people where we spend a lot of our time and gives an idea of where we live. James reminded the class that the same can be true of messages; even if they're being sent in a private message group we don't know where the messages could end up or who will see them.
Things we've learnt:
'I won't use a picture of my face for my online profile'
'I won't post pictures of me wearing my school uniform and will ask my mum to do the same'
'I learnt to always read the Terms and Conditions on websites'
'I was shocked that companies want to know who your friends are'