Children's Mental Health Week 2020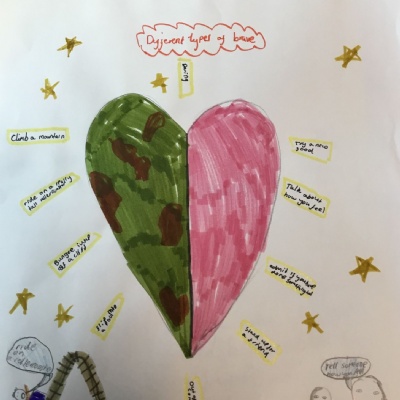 We had a really fantastic week of learning with some interesting and thought provoking activities to promote Children's Mental Health Week, focusing on the theme 'Find Your Brave.' We read the story 'The Wolf's Colourful Coat' by Avril McDonald and learnt that we have to be brave enough to continue to be ourselves and keep our hearts open for there are wonderful surprises when we do. We also listened to a ten year old child called Joseph Wang talking about finding his brave after moving to the UK from China. We watched a clip of a time when Harry Potter showed great courage and bravery through friendship and listened to the song 'This Is Me' from The Greatest Showman.
On Thursday, we supported 'Inside Out Day'; we wore an item of our clothing 'inside out' to show that what a person looks like on the outside does not always reflect their true feelings on the inside. Today, we also celebrated the NSPCC's 'Number Day' by dressing up as a number to raise money for the NSPCC and their fight for keeping children safe from harm.
We were also set a home learning task, asking us to think about the following questions:
Think about something you've done where you felt brave. How did it make you feel?
Think of something brave you could do at school. (It could be speaking up in class, standing up for someone or volunteering for something).
Think of a new skill or activity that you could try, which you've never done before.
Ask your family, friends and teachers what they do to 'Find Their Brave'
How do you Find your Brave? Write or draw something to show this.
The photo is an example of a fantastic piece of work from a child in the class!