Anti-Bullying Week 2019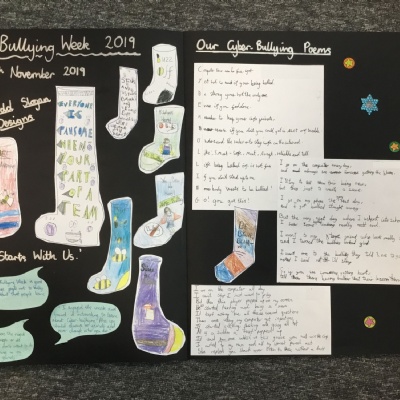 Monday 11th November - Friday 15th November 2019
This week, we have explored the Anti-Bullying Week national theme of 'Change Starts With Us.' We have discussed the following questions:
What is bullying?
What should you do if you think you're being bullied?
What should you do if you witness someone else being bullied?
Where can bullying take place?
KS2: What is a bystander? What is an upstander?
We have looked deep into the importance of being e-safe and aware of our behaviour online and that of others and written our own poems to encourage cyber/e-safety. We also wore odd socks on Tuesday to commemorate Anti-Bullying Week! We then designed our own 'Anti-Bullying Odd Slogan Socks' to promote the key messages that we feel are important are important to us as individuals. You can see examples of this in the photo above.
Some imaginative and inspiring slogans were: 'Sock It To Them!' 'Blurting creates hurting.' 'Kind Is Cool' 'Take a stand. Lend a hand.'