Tate Britain trip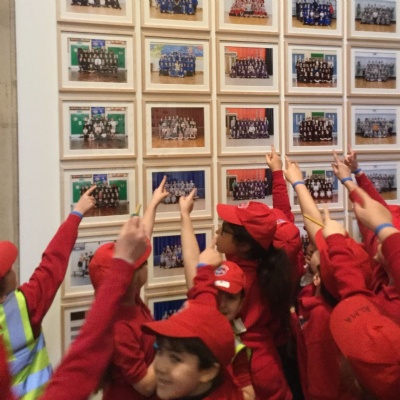 Year 4 visited the Tate Britain.
When the children were in Year 3 last year, they became part of a major art project created by Turner Prize and Oscar-winning artist, Steve McQueen. The children were photographed in around May 2019 along with approximately 3,500 other Year 3 classes from across London. Their photograph, together with the thousands of others which were taken around that time, is now being displayed in Tate Britain.
Year 4 were first shown a video in which Steve McQueen explained his aims and, in particular, his exploration of the theme of London's rich civic diversity. They then explored the enormous gallery, eventually spotting their own class picture.
The children participated in activities with art gallery guides and were then allowed to investigate some of the other galleries to study and sketch from paintings that Steve McQueen himself had chosen to represent diversity. It was interesting to relate some of these centuries-old paintings with the themes that had arisen when looking at Steve McQueen's new project which saw themselves being featured!